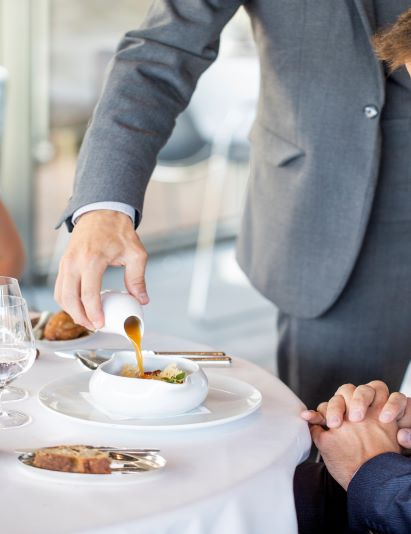 Father's Day: an original gift for the gourmet
August 2022
Are you looking for an original gift idea for Father's Day? Offer him a gift voucher to enjoy a lunch cruise or a gastronomic dinner on board the 100% electric boat Ducasse Sur Seine.


Opt for a gourmet gift for Father's Day
For father's day, offer him a gastronomic gift to discover Parisian haute cuisine during an unforgettable lunch or dinner cruise. An unforgettable experience aboard the first 100% electric boat in the capital, where he will have the chance to taste recipes imagined in tandem by Alain Ducasse and the chef of Ducasse Sur Seine Jean-Philippe Berens. The pleasure of eating well is accompanied by the happiness of enjoying the view of the city, since the cruise will allow him to admire the most beautiful Parisian monuments while peacefully enjoying his meal thanks to the silent and eco-responsible electric propulsion system of the restaurant boat. Discover our collection of gift vouchers and offer her an exceptional moment on this very special occasion.


Offer a lunch cruise for Father's Day
Offer him an unusual and tasty cruise on the Parisian river for lunch. A special Father's Day moment that begins as soon as you board the boat at Port Debilly, with a breathtaking view of the Eiffel Tower. Make him happy by offering him a « Déjeuner sur Seine » gift, a gastronomic cruise that will allow him to savor a 3-course menu featuring French gastronomy and to discover the food and wine pairings carefully imagined by our sommelier to accompany the meal. An exceptional experience the time a pleasant crossing in the heart of Paris** to discover the most beautiful monuments, the liveliness of Paris during the day and the banks of the Seine classified as World Heritage by UNESCO.

Offer a gift certificate « Déjeuner sur Seine »


Offer a dinner cruise for Father's Day
For Father's Day, offer him a gift voucher for a gourmet restaurant in a unique setting during a dinner cruise on the Seine aboard our 100% electric boat. Offer a dinner cruise for Father's Day The « Nuit Etoilée » cruise is the perfect gift for all food and wine lovers. Let them enjoy a meal in 4 or 5 times, at the time when Paris is dressed in light, imagined by the chef Jean-Philippe Berens. The boat sets off at nightfall on a journey that offers a breathtaking view of the city's most incredible monuments such as the Louvre Museum, the Grand Palais and the Hôtel des Invalides. The capital unfolds all its beauty while tasting a menu inspired by the seasonality of the products carefully prepared by the chef and his teams on the boat while savoring the delicate wines chosen by our sommelier.

Offer a gift certificate« Nuit Étoilée »